Cynthia Slaymaker – Memorial Plaque
On 15th August 2023, a memorial plaque to Cynthia Slaymaker was unveiled by her nephew, Huw.  The Slaymakers' memorial bench can be found in Harry's Meadow, Jacobs Well (near the Brook) and all are welcome to enjoy this bench.  The What3Words location is ///planet.press.across
Cynthia dedicated her life to supporting others.  Her positive attitude to life, even when she became ill, was inspirational to all her knew her.
Cynthia was always ready to roll up her sleeves and help out wherever needed and would frequently help out at parish council events whilst her husband, Derek, was a parish councillor.
Baking was her great love and Cynthia was always keen to bake for her family, friends and neighbours.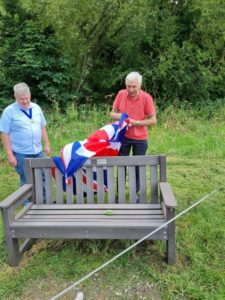 Cynthia's generosity, kindness and community spirit will be greatly missed by all who were fortunate enough to know her.