Lilly Bell II – WW2 plane crash
For a full history of the Lilly Bell II , the American Dakota C47a Skytrain, which crashed in Jacobs Well on 24 October  1944 click on the following link https://guildford-dragon.com/the-wwii-crash-of-c47-lilly-bell-ii/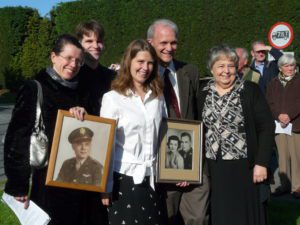 The Wright family
The unveiling ceremony of a plaque to commemorate the crew of an American military aircraft that crashed in a field in Jacobs Well in 1944 took place on Sunday 17 October 2010 at 11am.  It was a fitting tribute and a perfect way to round up an amazing story.
Local residents and invited guests gathered on the corner of Clay Lane and Queenhythe Road for the service.
They were welcomed by Bob McShee, Chairman of Worplesdon Parish Council, who introduced Cllr Terence Patrick.  Cllr Patrick spoke about the importance of recording and commemorating our local history.
The project was the idea of local historians Frank Phillipson and David Rose.
David spoke about their research project that, over the past few years, has included an archaeological excavation of the crash site.
He thanked a number of people who helped them with this including Dean and Davina Robinson of Hurst Farm House, Chris Heywood of the Surrey Archaeological Society, Phil and Anne Vallis of Discoverers metal detecting group and military aviation expert Simon Parry.
Frank had researched, mainly via the internet, the descendants of the four young airmen who were killed.  One of those, the son of the co-pilot, Professor John Wright and his family travelled over from Wisconsin USA to be guests of honour.
David read some words by way of a reflection for the four crewmen, that was followed by a few moments of silence when those gathered could remember the airmen in their own thoughts and give praise for the sacrifice they made during the Second World War.  This was followed by a superb musical tribute by Jacobs Well piper Kenneth Thomson, who played the lament Mist Covered Mountains.  Then, timed absolutely to perfection, those gathered heard the rumble of an aircraft's engines and against the backdrop of a clear sky a wartime C47a Skytrain (Dakota), the exact same type of aircraft that crashed, appeared over the top of the houses.  It was a breath taking sight as it passed over and dipped its wings.  It then turned about and flew back over, at which there was spontaneous applause from everyone.
Professor Wright then gave a moving speech. He said he was only 13 months old when his father died and that, until he was contacted by Frank Phillipson, he had no idea exactly where in the UK his father died, or had any specific details of the crash.
He then unveiled the aluminium plaque that sits on a block of sandstone.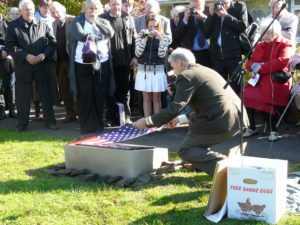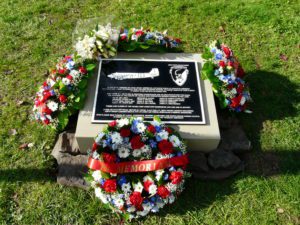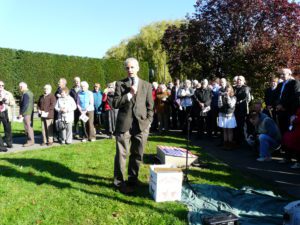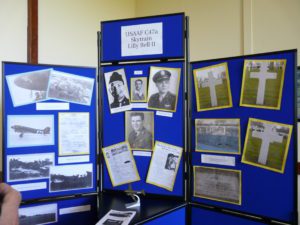 The plaque includes fragments of aluminium from the actual aircraft recovered during the excavation.  The aircraft was nicknamed Lilly Bell II.
The Wright family then laid four wreaths to commemorate the four airmen:
1st Lieutenant – Mercer Wilson Avent (pilot)
Flight Officer – John Edmund Wright (acting as co-pilot)
John R Hillmer (flight engineer)
Technical Sergeant Dale Eugene Dellinger (radio operator)
A bunch of lilies was then laid by Martin George on behalf of the UK secretary and members of the 8th Air Force Historical Society UK.
Bob McShee Chairman of Worplesdon Parish Council said that "the Parish Council is very proud to have been involved with the placing and unveiling of this unique memorial plaque in honour of the four US Airforce men who sadly lost their lives in our Parish in 1944.
"Attending the unveiling ceremony on Sunday enabled many parish councillors and members of the local community to pay their respects in what was an extremely moving ceremony.
"We would like to thank all those involved with the project in particular David Rose, and Frank Phillipson for their hard work, vision and enthusiasm which enabled this project to take place.  Our thanks also go to Kenneth Thomson for playing a lament on the bagpipes during the ceremony and to the pilot of the Dakota aircraft , Andrew Davenport, who made a flypast at precisely 11.20am."
The Parish Council maintains the war memorial and a wreath laying ceremony is held annually on Armistice Day at 11am.
WHAT'S
ON!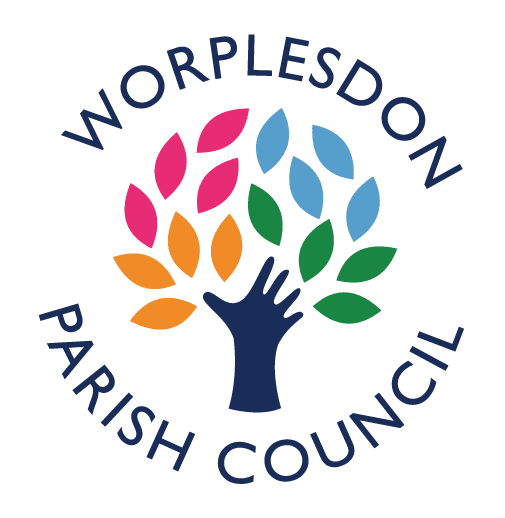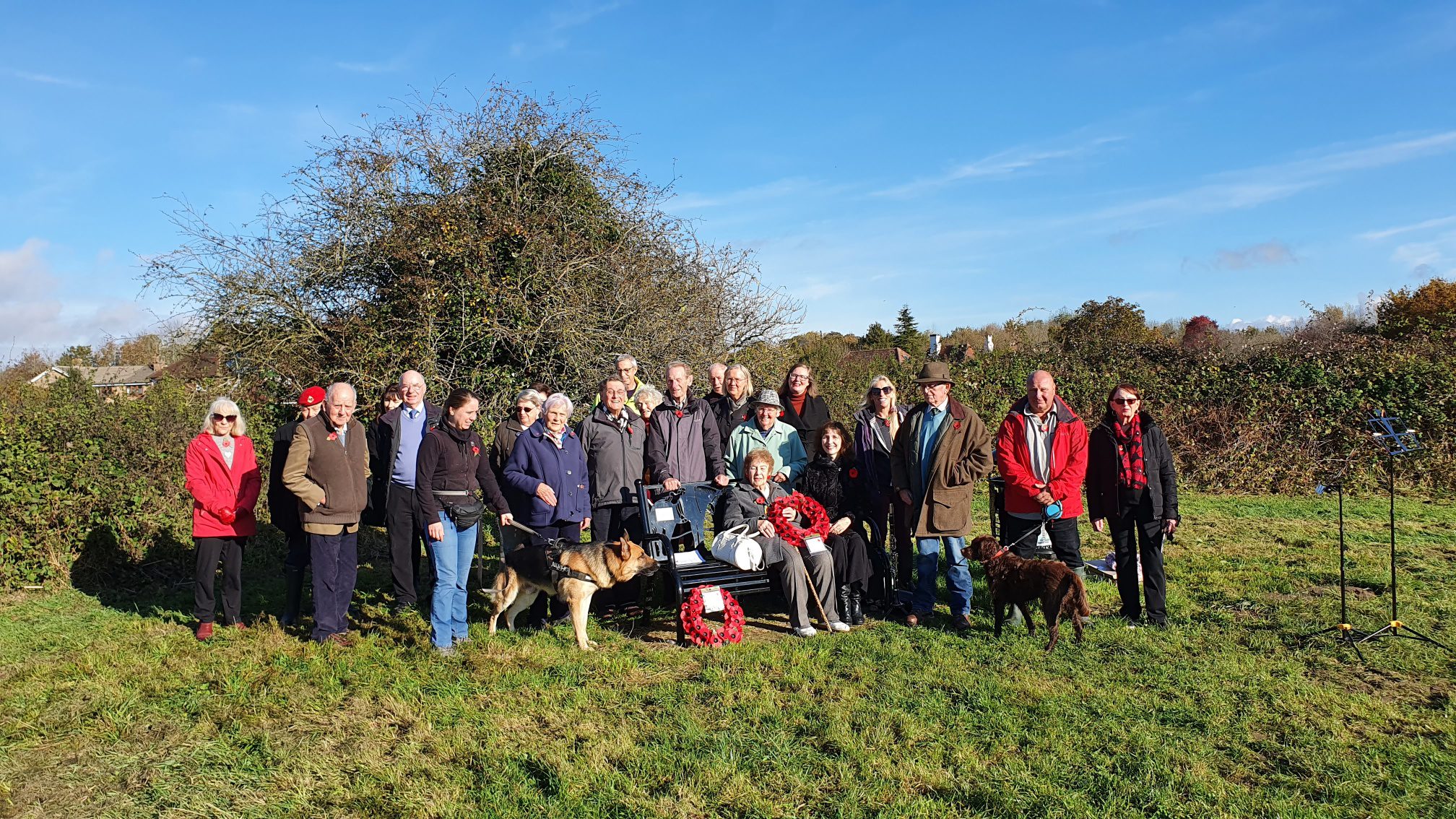 Click here to find out what's going on in the Parish
MORE INFORMATION