Wood Street Village Jazz Festival – Sunday 23rd August 2020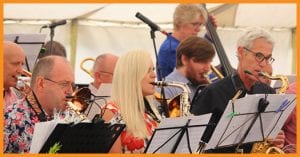 The Wood Street Jazz Festival is back for another year in 2020. On Sunday 23rd August we will be welcoming you to an afternoon of world-class Jazz on the Wood Street Village Green – socially distanced of course!
We are excited to announce that Jazz at the Movies featuring Joanna Eden are going to be our headline act this year, so if you fancy a day out with amazing live music please come and join us from 2pm-5pm. You are welcome to bring chairs and tables, a picnic and drinks!
Tickets need to booked in advance and are £18 (£16 for Guildford Jazz Members), or £30 for a household of 2, and under 18s are free. All tickets also include an entry to our raffle! All of the money raised from the day goes directly to Challengers, helping us continue to break down the barriers to play for local disabled children and their families.
We have completed a thorough risk assessment for this event specific to COVID-19 and will be adhering to strict social distancing guidelines at all times. You will be allocated a seating area when you book a ticket, therefore if you are attending with a group, please buy your tickets at the same time if possible so that we can seat you in adjacent seating areas. A limited number of larger seating areas at the back and sides will also be available if you would like to bring your own gazebo or garden umbrella.
This will be a cashless event and unfortunately we will not be able to provide food and drink as we have done at previous events, so please do bring your own. There will be floor markers and signage to remind you to keep at least a metre away from those outside of your household, and we ask that you be respectful of social distancing guidelines.
If you have any questions about this event please email Emily (emilyblackley@disability-challengers.org). We look forward to seeing you there!